2021

Opportunity Snapshot Reveals:
Life Sciences Firms Must

Accelerate Decision-Making

From Market And Competitive Intelligence
Forrester Opportunity Snapshot: A Custom Study Commissioned by Cipher | May 2021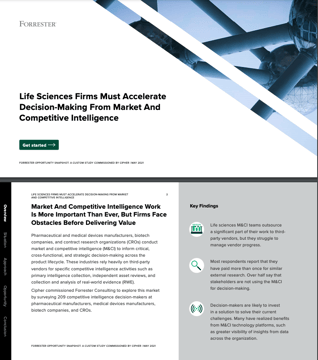 Cipher commissioned a Forrester survey to better understand the CI trends and challenges among 200+ CI decision-makers in the field of life sciences.
Forrester revealed these results and more:
55% of respondents struggle to make decisions informed by competitive intelligence.

70% find it challenging to manage 3rd party vendors

72% agree that the hardest part of managing 3rd party vendors is managing their progress.
61% said they receive better data quality when using a M/CI platform
You can now download the full report, "Life Science Firms Must Accelerate Decision-Making From Market and Competitive Intelligence" by filling out the form.