Preparing for
Market Disruption
Learn about preparing for market disruption from an industry facing increased disruption from regulatory uncertainty, ground-breaking mergers, and scrutiny from both the public and private sectors.
Businesses in every industry are facing increasing disruption from technology and game-changing innovation.
A prime example of this comes from the Life Sciences industries.

In recent months, the Life Sciences industries have become the target of increased market disruption due to regulatory uncertainty, ground-breaking mergers, and increased scrutiny from both the public and private sectors.

In this 30-minute session, Dawn Faint, Director of Life Sciences at Cipher, will discuss recent market developments disrupting the Life Sciences industries and actions companies can take to firm up their competitive strategy.

Mike Irving, VP of Sales, will also provide a brief glimpse of the competitive intelligence tools available in Knowledge360® to help companies monitor for market disruption.

­Key takeaways:
An overview of real-life market disruptions in the Life Sciences industry
Practical tips for strengthening your competitive strategy
Resources & tactics to monitor for disruption

About Cipher
Supports the needs of enterprise Market and Competitive Intelligence (M/CI) professionals, Marketing & Sales teams, Corporate Strategy, Product Managers and Research professionals in highly competitive and regulated industries with the software tools and services they need to gain and maintain a competitive advantage.
Introducing Cipher, Knowledge360, and our speakers:
Organizer: Our presenters today are Dawn, Director of Life Sciences and Mike Irving, VP of Sales. Before we get started, they will each take a moment to introduce themselves. Starting with Dawn.
Dawn Faint: I have been at Cipher for a year and a half as the Director of Life Sciences. In my role, I work with clients most often in the pharmaceutical, insurance and medical device industries, applying Cipher's technology solution, Knowledge360, to the specific needs of these clients. I also work on the consulting side, providing competitive intelligence and strategy support.
Mike Irving: Hello, my name is Mike Irving. I'm the Vice President of Sales here at Cipher. I've been here for just over a year, but I have about 20 years of software sales and my background is specifically working with folks looking at a SaaS solution to basically modernize what they're doing on a day to day basis. My job today is to walk you through a little bit of our technology solution, Knowledge360, and how we support the overall premise here of being able to stay aware of all disruption that may be in your marketplace.
Organizer: Thank you. Before we go any further, here is a quick agenda for today's webinar with a focus on preparing for market disruption. Dawn will walk us through driving forces in the market and some additional thoughts to consider as you prepare for market disruption. Mike will take us inside Knowledge360 and review some real-world examples of how to use the tool to better monitor for market disruptors. We will wrap up with some key takeaways, additional resources and a brief Q&A session.
Dawn's perspective on The Major Drivers of Market Disruption in The Life Sciences Industries: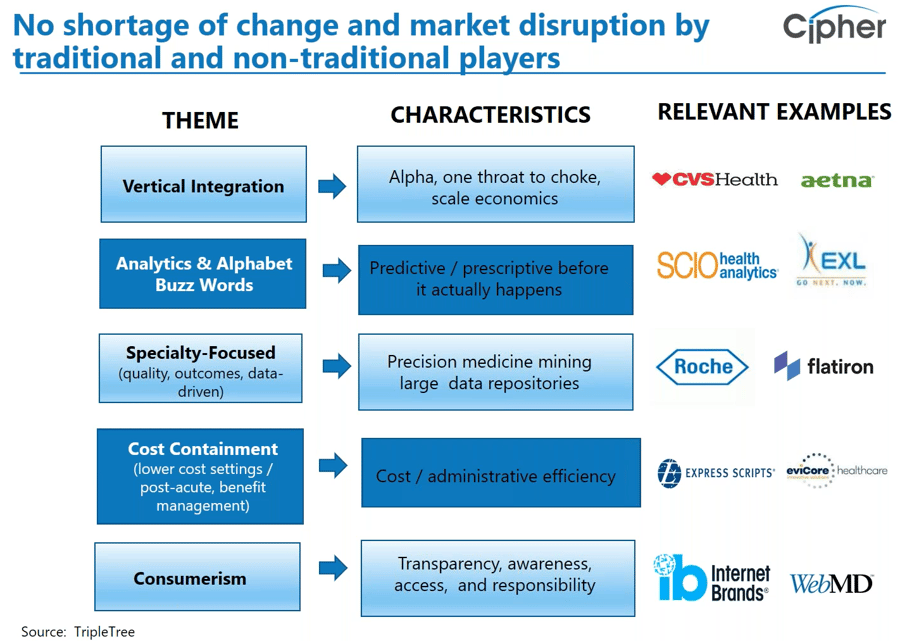 Thanks so much. So this slide was presented recently by a company called Triple Tree at a webinar, and I really like the way it outlines a few of the major drivers of disruption in the healthcare marketplace. The first thing we'll talk about today is vertical integration, where companies try to control the channels by which services are delivered, thereby controlling access and cost. An example of this is the acquisition of Aetna by CVS Health. CVS Health made this deal to improve their bargaining power against pharmaceutical companies and to gain market share over rivals, Walgreen's and Walmart.
A second driver in the marketplace is analytics. It's important for companies to get to the point of being predictive because that increases a company's opportunity to be preventive to their members and patients. An example of this driver is the deal that happened to obtain EXL where they align with SCIO Health Analytics.They did this to strengthen their offering and payment integrity and population risk management.
Another thing that's driving the market is investing in companies that are specialty focused. Companies do this to gain an expertise in a specific area. In this example, you can see Roche and Flatiron, Roche acquired Flatiron to gain access to their proprietary electronic medical records. They get that data in nearly real-time from a network of oncology practices which collect the data on patients. You can imagine how it would change the game being able to partner with a company like this that's so widely invested in oncology offices and gathering that data on a regular basis and putting it into medical records and being able to gather that data for clinical trials.
The next driver in this slide is cost containment. We all know this is a focus for companies across the board. Along with that is being able to streamline processes and procedures. You know, all of this will save you time and money. In this example, PBM (pharmacy benefit management) Express Scripts acquired eviCore Healthcare. They acquired them for their focus in medical costs containment and, working together, this will enhance the benefit management services that they offer.
Finally, one of the main drivers in the market has been consumerism. That has really changed the way care is accessed by patients in the market. From transparency solutions, to online appointment setting, to walk-in clinics, evidence of the impact of consumerism is really everywhere. In this example, Internet Brands acquired WebMD to expand their reach to consumers and healthcare professionals for the brands they represent. On a side note, they also own Medscape. So to think about it, Internet Brands owns the biggest brand that reaches patients, which is WebMD, and then the biggest brand that reaches practitioners which is Medscape.

Some thoughts to consider about this all and what it means. I think for me it means that disruption knows no boundaries.
As competitive intelligence professionals or anyone that works in this area of market research knows, new competitors can emerge vertically, horizontally, peripherally in blind spots, or from completely different industries.
And I think the destruction that we've seen, in the recent years has really taught us this. So what can we learn from this? We have to learn that competitor monitoring efforts cannot be focused only on known competitors. We need to be looking much more broadly at the competitive landscape to realize and acknowledge the fact that competitors can really come from areas we're not really expecting.
I would say another thing is one deal, such as a merger or acquisition, may indicate similar deals are on the horizon. So when a merger or acquisition happens in your market, you know there's a need to rapidly identify companies that could be the next takeover targets. We've seen this a few times with different competitor deals. And if you saw that earlier example, which I gave with Aetna and CVS Health, you know the question to ask is, who else is likely to make a move to gain scale and have solutions that address similar needs? And again, after the Aetna deal, we saw Cigna and Express Scripts. There's a possible hookup between Walmart and Humana. What will Walgreens do? What will Anthem do? Are they going to sit on the sidelines? So again, if one deal comes around, you really need to find a single source for competitive intelligence which will enable you to connect the dots. Having a single source that enables you to gather that competitor information very rapidly on other companies that may be the next takeover targets and being able to go to one place to review and analyze that information saves you time and effort.
And the last thing I could say is that market indicators can signal events before they happen. Soft indicators such as news, job postings, SEC filings, patents, press releases, and so on need to be on your radar but gathering this information is an arduous task. I mean, today things can happen every day, all day, overnight, internationally. So many sources have become more important for competitor monitoring. Social media sources are now, you know, something that need to be monitored all the time. So using a technology solution is really helpful in being able to streamline the collection process and deliver customized content to the user. So these are the three summary items I would say from here. I'll turn it over to Mike now and he will show you a little bit about our competitive intelligence tool, Knowledge360.
Mike's perspective on using knowledge360, Cipher's competitive intelligence tool, to mitigate the risks of market disruption:

Thanks Dawn. Again, everyone welcome. So we're going to take a couple minutes here just to run through some very top level pieces of information and the way that we address some of the trend monitoring and market research challenges that Dawn just laid out for us in the previous slide. Um, we're going to keep this again, very high level in the essence of time here, we only have about 10 more minutes, but I would strongly encourage anyone who is here if you'd like to take a deeper dive into Knowledge360, just give us a shout. I'm happy to schedule a time to run through some of the expanded technology as we go through this as well.
Okay, so for those of you who don't know Knowledge360 or Cipher, I want to at least kind of set the table for you. Dawn had mentioned this, but there are tons of different data streams that are coming into Knowledge360 that you guys need to be aware of in order to identify early market disruptors. Right? Find out what, pieces or clues or evidence can we find to indicate what's going to happen in the future with our competitors and our market. One of the things that we did when we built Knowledge360 was try to grab all the public information sources we possibly could to bundle that within our tool and minimize the amount of time that you're spending manually going to grab it and then store it. In Knowledge360, we create a format for you that makes it easy to visualize your market and competitor information. You're going to see that in just one moment.
Okay. Um, as an example of what we're talking about today, just to give you an idea, one of the things that we aggregate through our system is news content, right? So there are about 600,000 different sources out there that we are pulling in and I pre-built some news searches in here just to give us something to play with. But um, when you designate a search term, uh, or anything that you're interested in watching and monitoring, whether that's a company or a specific product or a condition or what have you, we're basically going out to over a half a million different news sources to pull that content into Knowledge360 for you to share and analyze.
While that's great, if you're getting 5,000 or 10,000 pieces of information, we really need a way to help you guys make sense of all that noise.
So we've created some filtering factors in Knowledge360 which you can see right here that help drill down into your search results and really filter out of lot of that irrelevant noise. I've done a quick search here on our news for "digital health bridging." Okay? If I were looking through these results and from what I understand there may be some additional player in this space, maybe a powerhouse guy like, um, let's say Amazon for example. I know everyone is familiar with that brand and there's always some concern that they may be breaking into new markets. Using the advanced filtering tools in Knowledge360, I'm able to see a news story here that comes through very quickly to understand exactly what's happening with Amazon as it pertains to this particular topic. So Alexa is obviously one of their new flagship products that they are pushing pretty hard. You can see that there is now a need for Alexa to be adapted to the requirements for HIPPA. That should certainly raise some flags so they understand this may be a huge player that's coming into the marketplace and we need to start tracking this a little bit more closely. That's an early sign of a potential disruption coming down the scene. Um, in this piece of news, their initial focus would be for diabetes management as well as maternity and senior care, but who knows where they can possibly go from there. Okay. That's just an example. Again, a quick way for us to filter down through information that may be an indicator for you moving forward.
Beyond that, we want to be able to start creating individual sites for you, again, based upon whatever you may be looking for in terms of your market indicators and competitors to be able to monitor those on a daily basis. We're looking at health welfare here, uh, but we have a plethora of different views that we could personally go into, including wearable devices. This is the big thing now with Fitbit's and what have you. Let's start tracking what's happening within that particular genre to understand who could be a new player coming on board. One thing I'm not actually able to show you today, but is directly linked to what we're talking about from an instruction standpoint. We've recently inked to deal with a company called Crunchbase that you may be familiar with. Crunchbase is going to provide us with, based on the industry or the segment that we're talking about, they'll provide us the names of companies that are coming new onto the market. So immediately you're going to be able to be aware and alerted of potential disruptors coming on the scene. Beyond that, you'll have financial information for these private companies. You'll also have M&A deals that are going to be running in there as well, so you'll have some indication on what's happening beyond public information with that information that Crunchbase is going to provide to us. And certainly that's going to be an indication of any type of disruption that you guys want to be aware of. All that information will be available in a dashboard similar to the one that we're looking at it now. So again, if there's a specific market or product or vertical that you want to be able to focus on, you can build a dashboard similar to this one to be made aware of that as the data comes through.
Beyond that, we have a way to identify, we know who the players are. There are some certain dashboards I want to be able to understand what's happening with Aetna, for example, as one of the big players in the insurance space. I can go through and build a specific dashboard for that. That includes information like financials, stock ticker information, Twitter, Facebook, anything that I would need to have an actual feed on and I can customize this view to be specific to the competitor information that I need to see to be aware of whatever this particular competitor may be doing. Beyond that. Um, you know, again, going back to our sandbox dashboards, if I want to do something side by side. So I want to look at, well, all the big players are what Cigna or Aetna or BCBS, what exactly is happening within their, within their newsfeeds? And then if I want to even go down to our semantic tagging level, what other companies are being mentioned along with these big three, right? So this is again, a way for us to go beyond just the surface level of this is what's happening with Cigna to find out if there's any commonalities or to find out who's being mentioned as a potential target for acquisition or merger or joint venture and things along those lines. All of these things could be a potential disruption in your market.
At Cipher, we use an analogy of your company as a naval ship at sea and the way we envision Knowledge360 working, in the monitoring tools that we provide, is we're basically the radar that's constantly pinging to find out what's happening around you. When you find something that is a potential danger or disruptor, you know in our analogy this could be bad weather or a reef that you need to be aware of, you're going to want to focus on that and hone down on it. Once a threat is identified, we would move from a broader view in Knowledge360 to create a different dashboard that's specific to whatever that disruption is. This allows you to have very quick analysis, information at your fingertips, and really allows you to take this data and make it actionable in a manner that allows you to respond much more quickly. Okay. Again, very, very treetop level conversation on exactly what our Knowledge360 platform does. I'm more than happy to schedule a one-on-one if you'd like to reach out. At this point I'm going to turn it back over to Dawn so that we can wrap things up for you.
Key Takeaways from dawn on Preparing for Market Disruption:
✔️ Disruption from technology, mergers & acquisitions, start-ups and so on show no signs of slowing down
✔️ With the proper tools and market research strategies in place, you can get ahead of changes in the marketplace
✔️ Competitive intelligence tools save time and effort and allow the allocation of resources to more value-added activities requiring human intelligence, like competitor analysis
Great. Thank you, Mike. So I would say our key takeaways are a few. Um, I think we've seen that disruption shows no sign of slowing down but there are ways to get ahead of the changes in the marketplace. They're there. You don't have to be surprised. Um, you know, disruption's going to keep happening. There are ways to get ahead of it. There are ways to stay on top of it. Technology tools really do save time and effort. Um, and the important thing about what they do is they allow the allocation of resources and tasks, two tasks requiring human intelligence, and I think this is really important because collection can be automated as well as Mike showed you very, very easily and very quickly with knowledge three 60 you can get started right away receiving relevant content, customized content very quickly. And then that takes the time out of having to check website websites on the constant basis or keep checking, newsfeeds or you know, the things that you know is a professional you're doing all the time to try and stay on top of things that the system does that for you. And then you can focus on the tasks that require human intelligence, which are really important. Providing analysis to your organization and providing recommendations to your organization, you know, having an opinion on, you know, being there to answer questions, you know, you, you know, you could take the time on the front end and put it on the back end where it really makes a difference. So, um, those are the key takeaways today. Um, you know, for me, thank you for joining. I'm, that's all I had.
Again, we have some competitive intelligence resources at the end here that I think are really helpful. Um, we have a brand new website that we invite you to come by and see it. I also write for a blog series on the website focused on the Life Sciences industries. We welcome you to subscribe to get different competitive strategy tips and insights. Also included here, we are the only SCIP Certified provider in the annual competitive intelligence provider assessment book. Just a little bit about our capabilities at the end here. Again, we focus market intelligence, competitive intelligence, we're also a strategic advisory, market entry, and technology solutions firm which you saw today. What we do is really help companies manage risk and, as we talked about today, prepare for disruption. So those are all the things that we do and we do it incredibly well. So we hope you'll visit our website and I'll hope you reach out to us. Thank you again, and if you'd like to have a demo, visit our website. We hope to hear from you soon. Thank you for attending today.
Smarter, Faster Decisions With Intelligence Software
Acknowledged by SCIP as a best-in-class CI solution, Knowledge360® makes it easy to aggregate and visualize information so you spend less time searching and more time making strategic decisions.