How a Global Health and Pharmaceuticals Organization Built
a Competitive Intelligence (CI) Function From the Ground Up.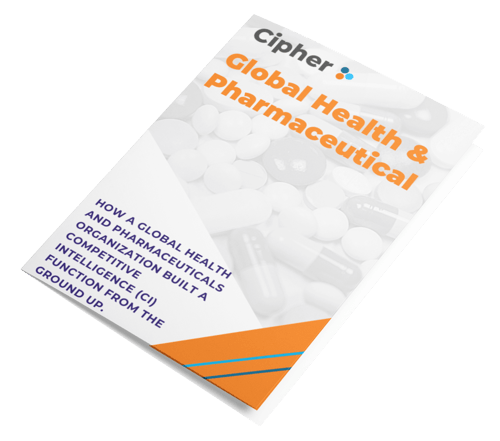 Phase 1: Requirments Gathering
The client had an existing, decentralized effort to gather
competitive intelligence manually by compiling and reviewing
competitor news. Cipher benchmarked these efforts against
Pharma best practices and conducted an in-depth analysis of
the client's core competitors to identify areas of opportunity.
Phase 2: Planning
Cipher, key stakeholders, and the C-Suite worked together to establish information collection and sharing processes, outline budget requirements, make crucial build vs buy decisions, and determine data sources.
Phase 3: Implmentation & Execution
Cipher worked with the client for 2 years to build a world-class
internal CI function using a 3-phased approach focused on
establishing high-value CI capabilities first. Cipher's in-house
developer team built a tailored, web-based solution for the
client to automate routine processes and manage knowledge.
Throughout this phase, Cipher provided change management
support, training, executive coaching, and advisement to
ensure the success of the project.
Phase 5: Ongoing Support
Cipher continues to provide high-end research, due diligence,
trend monitoring, strategic analysis, and strategic advisement
to support the client's internal efforts.
One of the Best Investments we Have Ever Made
"The partnership that we forged with Cipher was one of the best investments that we have ever made and continues to provide value long after the initial build. They held our hand throughout the entire process and continue to support us today. They feel like part of the team and are truly committed to our success."
Ready to
evolve

the way you compete?

Let us show you how it looks to change the way intelligence is mobilized across your organization and transform the way your intelligence function operates.