Download: The Ready to Use RFP Template for Competitive Intelligence Tools
If too much of your day is spent manually gathering and organizing information, it's time to look for a competitive intelligence tool.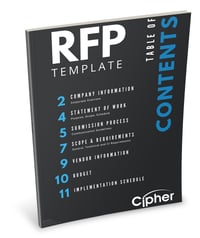 The right competitive intelligence tool can act as a force multiplier, collecting and organizing more data than would otherwise be possible with a team of researchers.
We created the CI Software RFP Template to help you build a Request for Proposal that meets the unique needs of your organization.
Our ready to use template includes the framework you need to customize an RFP and begin your bid process.
Only you know what your organization needs to deliver competitor analysis and actionable competitive intelligence to your C-suite, salespeople and product teams. And having the right CI software solution is a key piece of your CI solution.