Read Now: The Complete Guide to Market and Competitive Intelligence
Maintaining a deep understanding of your market, your customers and your competitors is key to success. Gathering the data around these three factors and pulling actionable insights from that data is a strategic practice called competitive intelligence.
If you're new to market and competitive intelligence (M/CI), it can seem like an overwhelming process. For example, the image below shows how businesses typically use market and competitive intelligence, where department needs overlap and where they differ.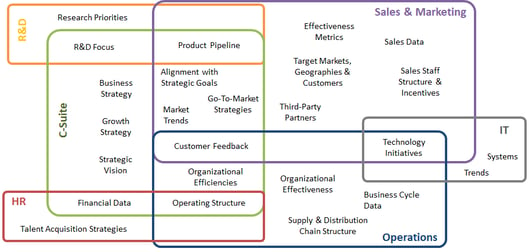 It's easy to see how even an experienced intelligence practitioner might struggle to develop a competitive intelligence function within their own business. But leading companies understand that it's essential for developing new products, protecting their sensitive business information and sparking innovation in a continuously evolving industry.
With 20+ years of experience in the CI field, we at Cipher have condensed our insights into the Complete Guide to Market and Competitive Intelligence to help you develop this process for maximum value to your business. In this guide, we will:
Explain why competitive intelligence is valuable to your business
Discuss the state of play for competitive intelligence in different industries
Communicate the value of competitive intelligence for marketers
Offer helpful outside resources for getting started with competitive intelligence, and
Discuss competitive intelligence tools , when you need them and where to focus your market research and competitive intelligence tactics
Are you ready to begin using competitive intelligence to navigate your market with lasting success? Download our guide to get started.