BI, CI and KM: What's the Difference?
Information overload is a major business challenge of the Digital Age and you need a clear understanding of how to sift through valuable industry data. That starts with a strategic approach to BI, CI, and KM.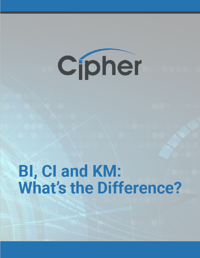 Today, companies have access to so much data and information from so many sources that they can easily be overwhelmed by it. The only way to effectively acquire, interpret and leverage useful data in this modern environment is with a strategic approach to business intelligence (BI), competitive intelligence (CI) and knowledge management (KM).
Sometimes collectively referred to as "the strategic triad," BI, CI and KM help businesses sift through valuable industry and company data to make smarter, more informed decisions for business growth and development. They help you forecast trends, minimize risks and stay ahead of competitors.
But these three disciplines are often confused and misused by the companies that invest in them, resulting in dissatisfactory results. In this guide, we'll clear up all of the confusion by:
Defining what each discipline does
Highlighting what they have in common
Illustrating where they differ
Showcasing how each work together for maximum value to your organization
Are you ready to make smarter business decisions with a winning intelligence strategy? Download our guide to get started.
Assess your existing competitive intelligence capabilities
Outline the desired end-state for your competitive intelligence function
Strengthen your core competitive intelligence team
Create recommendations and a competitive intelligence roadmap
Discuss how to drive a successful implementation of new competitive intelligence processes
Detail the process for measuring, monitoring, and refining your competitive intelligence function over time
Fill out the form to download your copy of the guide.