Cipher's focused capabilities produced unique insights for an A&D client to
re-engage in cyber threat analytics segment.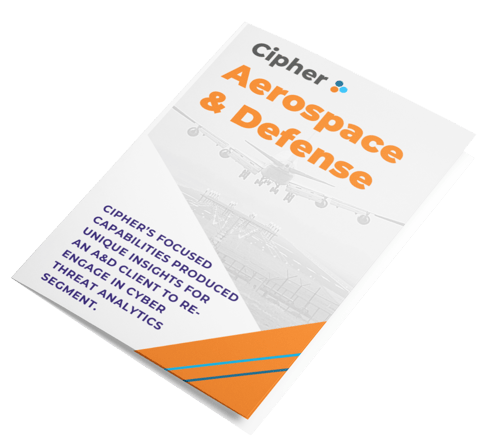 The Need: Market Assessment
The client, one of the world's largest aerospace and defense companies, acquired a powerful cyber threat analytics tool a few years ago. The product supports advanced functions in an emerging area of cyber security, where a market-defining product had yet to emerge. The client tasked Cipher with a market assessment to determine the best go-to-market strategy for the product.
The Approach: Conduct Assessment
Cipher conducted an exhaustive assessment of cyber security companies, refining the list to a dozen players within five strategic product groups that competed with the client's product. Applying a mix of secondary and primary research tactics, Cipher was able to gain deeper insights on the key capabilities of competing products as well as map out the relative positioning of each competitor.
The Result: Unique capabilities
Our final deliverable identified the following insights: the client's product possessed unique capabilities and faced only two direct competitors in a fragmented market; product weaknesses and/or blind-spots on which to further innovate; details regarding functionality, customer sets, and pricing strategies for competing products; key purchasing criteria and desired product functionality of customer sets; customer acquisition opportunities.
Ready to
evolve

the way you compete?

Let us show you how it looks to change the way intelligence is mobilized across your organization and transform the way your intelligence function operates.