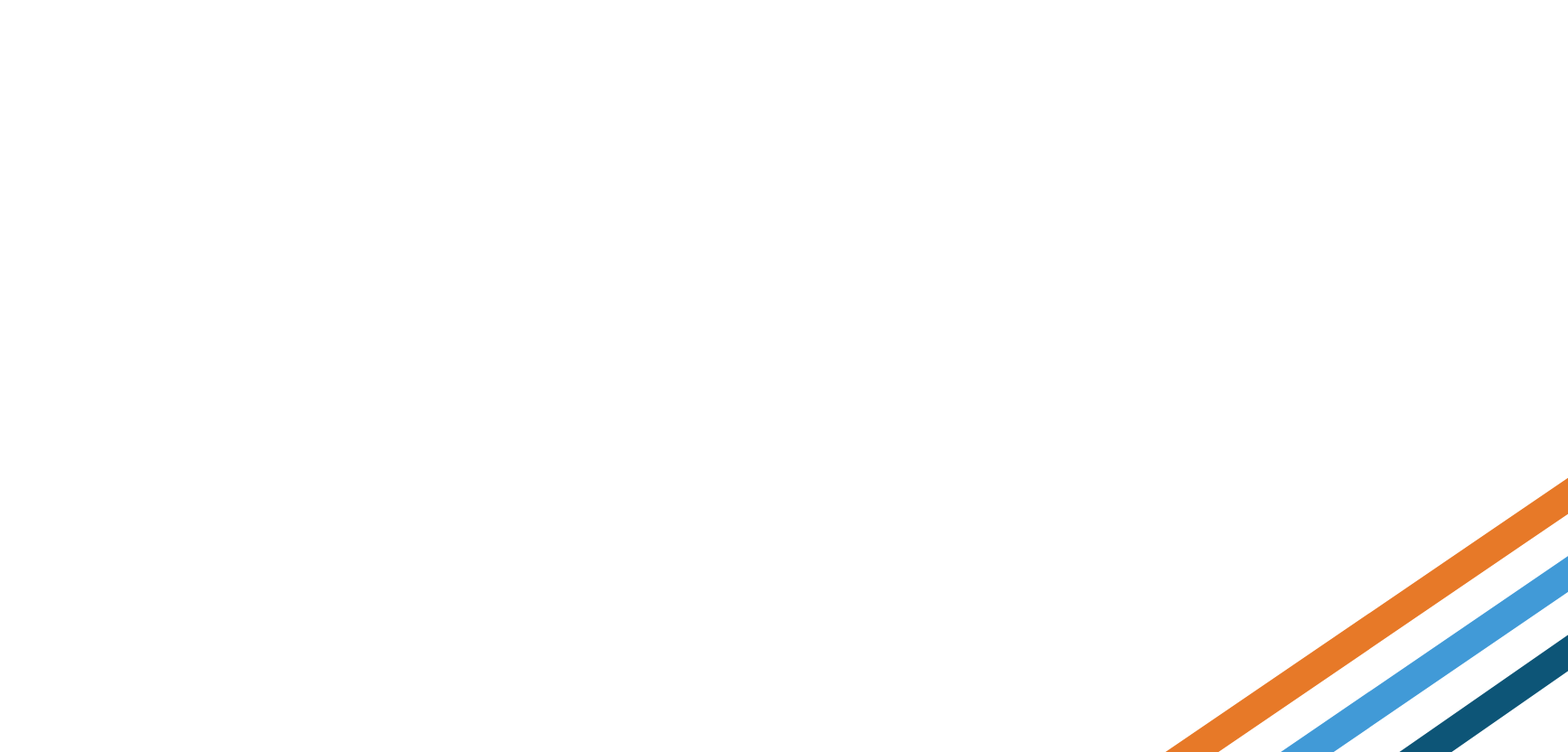 Revolutionizing the Management of Third-Party Market Research & CI Vendors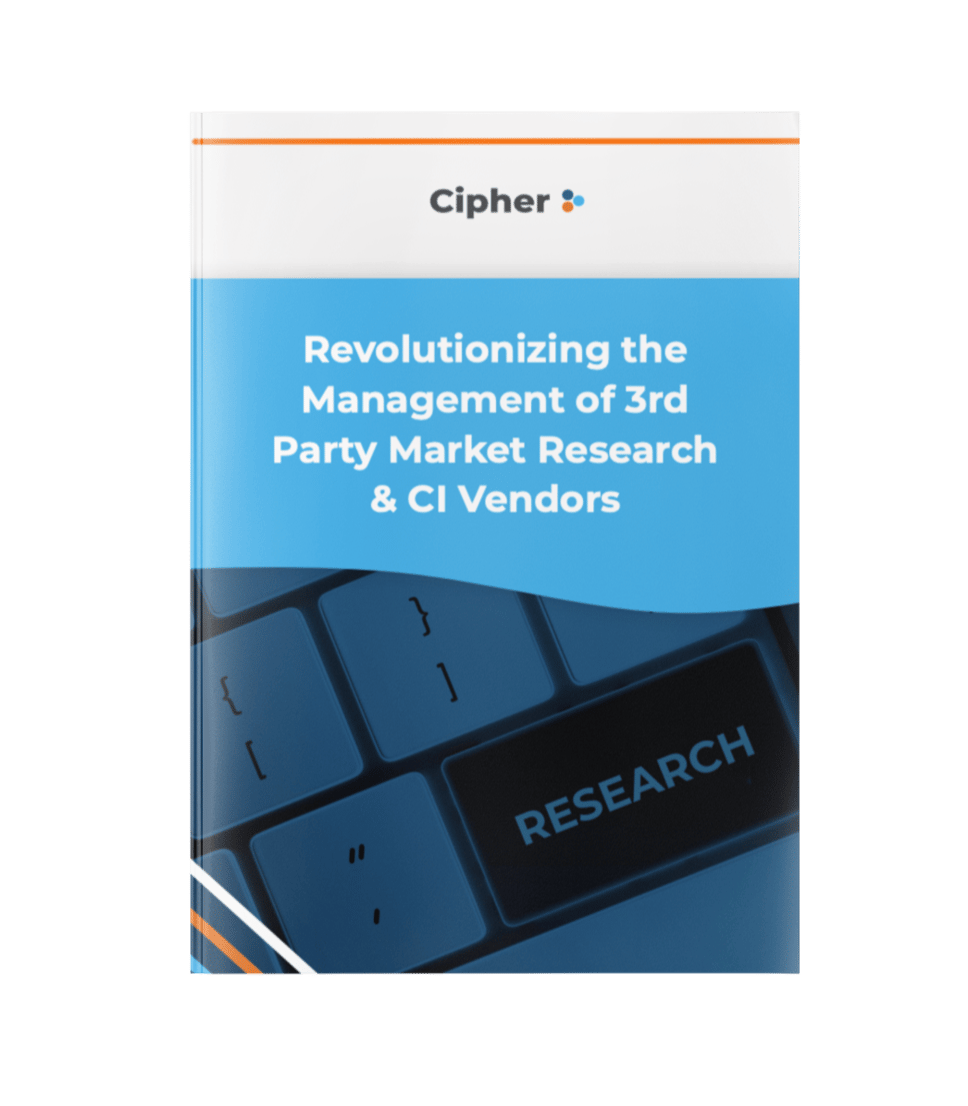 Don't Have Time To Read the Entire Whitepaper Now?
We'll email you a downloadable PDF version of the guide and you can read later.
The world of Market and Competitive Intelligence (M/CI) is a complex discipline, and success requires mastery of a wide range of different skills. There's never been more data to work with, a greater variety of analysis tools, or a more pressing need for high quality intelligence. From collecting primary data to contextualizing data points through a strategic lense, the demands on the modern M/CI Analyst are higher than ever. Increasingly, more and more M/CI teams are seeking the support of third-party M/CI vendors to augment or replace internal capabilities.

This is especially true in the life sciences industry. A recent study conducted by Forrester Consulting for Cipher revealed that four out of five M/CI teams in the life sciences industry work with third-party vendors to gather competitive intelligence, and three out of four rely on vendors to help analyze M/CI data.

This makes sense: the life sciences industry is highly complex, with an enormous range of different therapeutic areas, technologies, and innovations for intelligence analysts to keep track of. With what seems like an endless amount of data to collect and analyze, engaging external specialists to help your organization fill a capacity, talent, or knowledge gap makes solid business sense.
Third-party vendors can and do bring significant value to M/CI teams. They offer a wide range of services, from primary intelligence gathering to sophisticated data analysis. Engaging with external vendors enables M/CI teams to leverage subject matter expertise, gain exposure to different perspectives, and possibly develop game-changing insights. However, many report that the process of managing these vendor relationships is arduous and riddled with inefficiencies.
2021 Forrester Report:
200+ Competitive intelligence decision-makers reveal their biggest

CI challenges and their predictions for upcoming CI trends.

Forrester Opportunity Snapshot: A Custom Study Commissioned by Cipher | May 2021
The Challenges Associated with Effectively Managing Vendors
At a large organization, M/CI teams might engage third party vendors 60 or 70 times a year. With no uniform process, each engagement brings about a new set of complications, whether that's in project scoping, managing deliverables, or centralizing insights delivered by external vendors.

The lack of any centralized platform to manage vendor engagements results in severe inefficiencies. Some 67% of firms have paid for the same activity more than once, and over half have no insight into the past performance of their vendors. The components of any given project are scattered around a random collection of email inboxes, Sharepoints, and meeting notes, and there's no standardized process to guide the project from start to finish.

In all, 70% of the life science organizations that took part in the Forrester Research & Cipher study reported that managing their intelligence vendors was either 'very challenging' or 'extremely challenging'. Respondents reported facing all kinds of challenges. Some of the most common included:
Managing vendor progress
Reviewing vendor deliverables
Centralizing knowledge
Managing internal approvals
Despite this challenging environment, life science organizations were optimistic about the future. The majority felt that embracing the right M/CI software platform could significantly reduce the inefficiencies in the vendor management process, and stated they are willing to invest in M/CI platforms that enable them to collaborate with external partners more effectively.
An Intelligent Approach to Managing Third-Party Vendors
At Cipher, we recently announced the launch of a stand-alone Partner Portal within the Knowledge360Ⓡ platform. This portal, the first of its kind in the industry, takes the complexity out of working with third-party M/CI vendors by simplifying workflows into one centralized platform.
The Knowledge360 Partner Portal has a range of tools that support the full lifecycle of an engagement between an internal M/CI team and a third party vendor. Let's explore some of the key features:
Vendor Profiles
Administrators invite each vendor to set up their own profile, where they provide key information including contact details, capabilities, areas of expertise, and any conflicts of interest. Organizations can also add supplemental custom fields they require vendors to complete.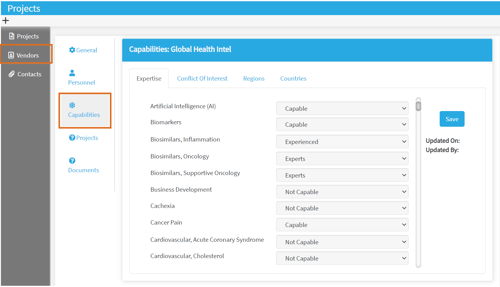 This serves to act as a directory for all of the vendors an M/CI team works with, and helps match vendors to projects they are well qualified for, resulting in a more effective vendor selection process.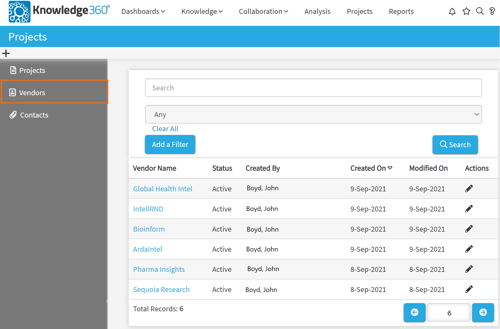 Automated Documentation Creation and Review
One of the largest sources of repetition in the existing vendor management process is creating the various forms of documentation: Statements of Work, Requests For Proposals (RFPs), Engagement Contracts, and more. In the Knowledge360 Partner Portal, users only have to enter project details once, and they'll auto-populate in all key documents, significantly streamlining the document creation process.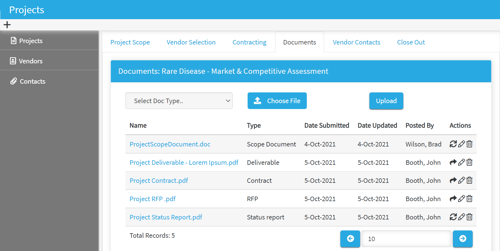 Send RFPs and Evaluate Proposals
It's easy to send RFPs to selected vendors with the touch of a button, and all proposals are then collated in one central location for a streamlined review process. Knowledge360's Partner Portal also comes with a vendor scoring engine that helps M/CI teams identify the most qualified vendors for each project, based on each vendor's capabilities, past performance, and internal feedback.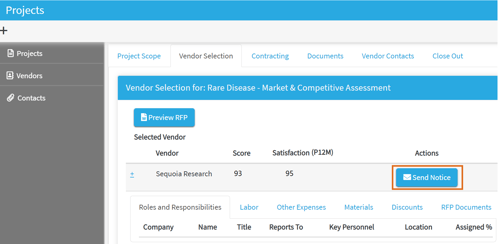 Fast Approvals with Docusign Integration
Internal approval processes frequently represent a major delay in kicking off important projects, with two-thirds of life science organizations admitting that important engagements have been delayed by internal approvals. With Knowledge360's new Docusign integration, it's possible to secure approval in minutes, with a fast, secure online signature process for all key documentation.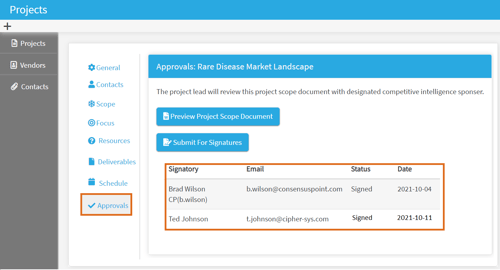 Centralized Document Repository
Far too many vendor deliverables and other project documents are lost in the ether, either languishing in a forgotten Sharepoint folder or saved at the bottom of a former employee's inbox.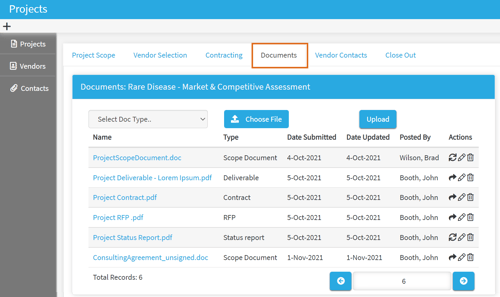 Knowledge360's Partner Portal acts as a central hub, collating all key documentation and deliverables for each project in one place. It's easy for users to add feedback, share documents, and quickly locate important insights. Users can quickly share insights to Knowledge360 dashboards and seamlessly share new intelligence with a wider audience.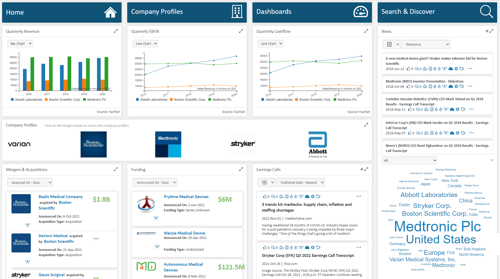 Vendor Feedback Process
Track vendor performance over time, and gather feedback from internal and external stakeholders.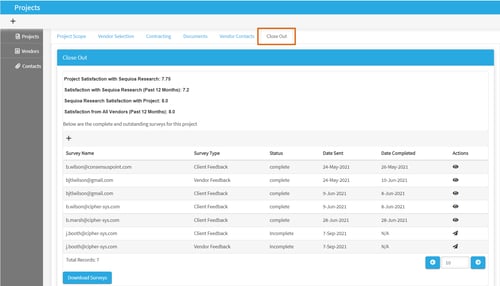 With over half of M/CI teams currently lacking any visibility into the previous performance of their vendors, this feature gives key stakeholders the information they need to make confident decisions about vendor engagements.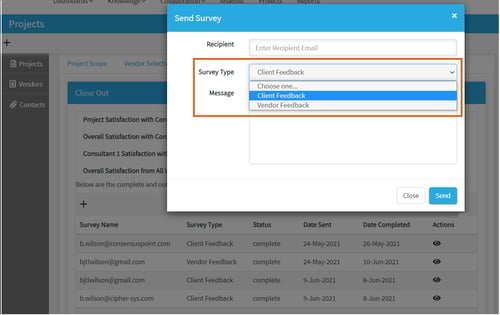 Configurable to Every User's Needs
Every organization partners with third-party vendors in their own way. The Knowledge360 Partner Portal is configurable to the needs of every M/CI team, with the ability to customize data fields, document templates, feedback surveys, and more.
The Results: Unlocking Higher Levels of Efficiency
With a range of new features tailored to the needs of your M/CI team, Knowledge360's Partner Portal provides your company a more effective way to manage third-party service provider deliverables and centralize key insights.
Current users are excited about the time savings they've been able to realize by adopting the Knowledge360 Partner Portal, citing significant efficiency gains achieved through the automation of low-value tasks.
Since implementing Knowledge360's Partner Portal, one multinational life sciences organization was able to reduce their new vendor RFP production cycle time from 2-3 days to less than one.
Previous cycle times for a new vendor engagement required highly skilled team members to spend hours on low-value, repetitive tasks. That is no longer the case, today with Knowledge360's Partner Portal, key third-party service providers are added and approved in a fraction of the time.




During the course of a year, this organization completes between 50 to 70 research, and intelligence projects utilizing trusted third-party service providers. In the first year of use, the company expects their transition to Knowledge360's Partner Portal will reduce associated administrative time by as much as 700 hours.
This is a significant saving, and it's worth bearing in mind that the time being saved belongs to a skilled manager within the M/CI organization, meaning they now have significantly more time to allocate on high value projects. And those savings don't take into account the more global impacts of reducing other redundancies in the vendor management process, such as eliminating repeated projects. So, this bears the question: what could the CI leader on your team do with an extra 700 hours per year?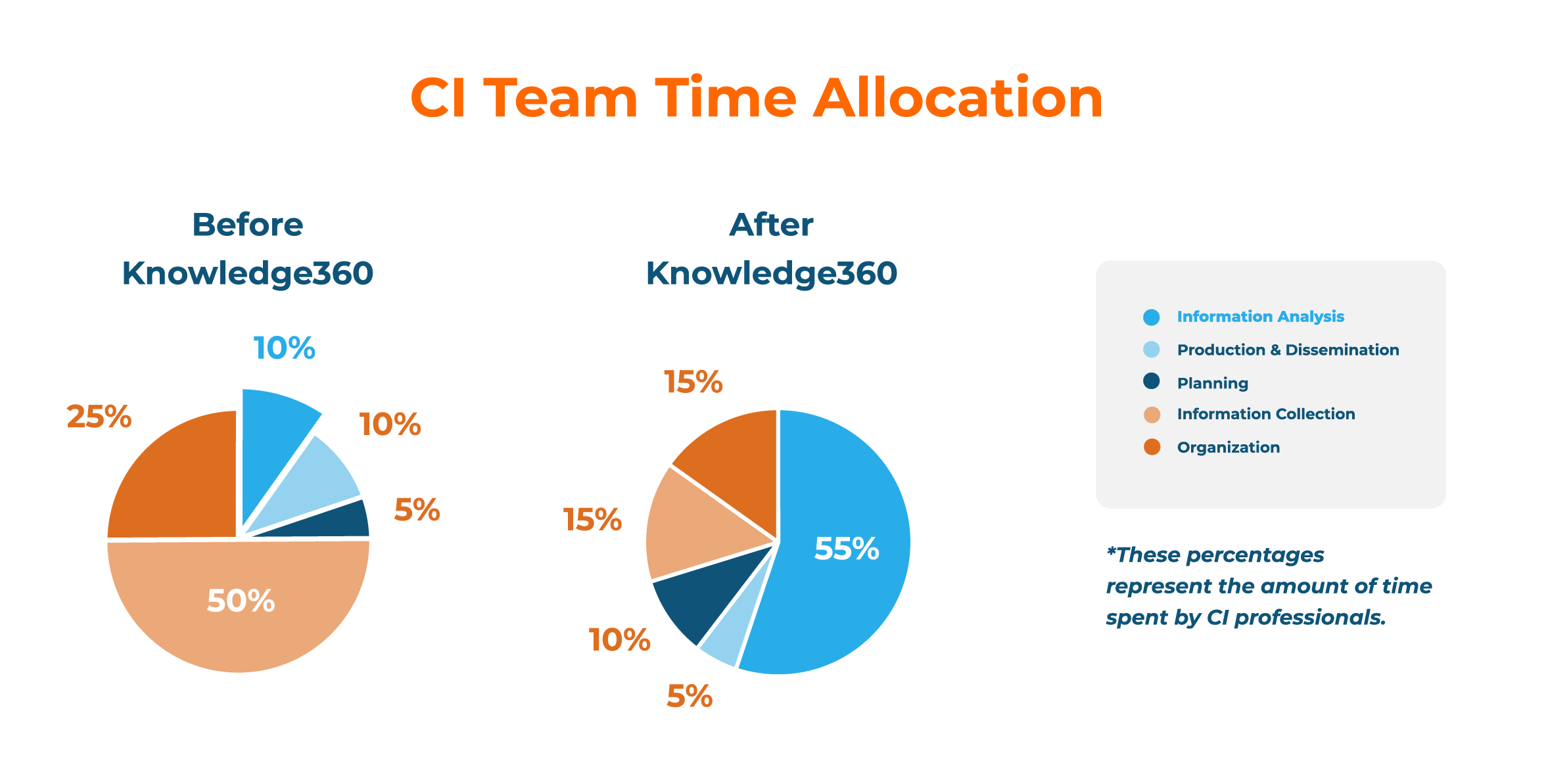 Interested in learning more about the Knowledge360
Partner Portal

?

Schedule a demo today to learn more about how Knowledge360 can transform the way your intelligence function operates.